The wreck: the cementier of the Pecorella
Required level: Beginner to Level 1
Depth: from 4 to 12 m.
Situation: At the exit of the gulf of Porto-Vecchio, near the beacon of the "Pecorella".
Presentation: Wreck of a 45m long cement ship, in excellent condition.
Strong point: Wreck lovers are satisfied, one can snoop without problems in the gangways and in the holds. A lot of life around and inside…
The rock of the Vacca
Required level: Beginner.
Depth: From the surface to 25m.
Situation:  South of the golf of Porto-Vecchio. It is a small island without vegetation in the reserve of the "Cerbicale" islands.
Presentation: Rocky rise not far from the island of Vacca.
Strong point: Rich and shallow fauna in addition to an interesting relief.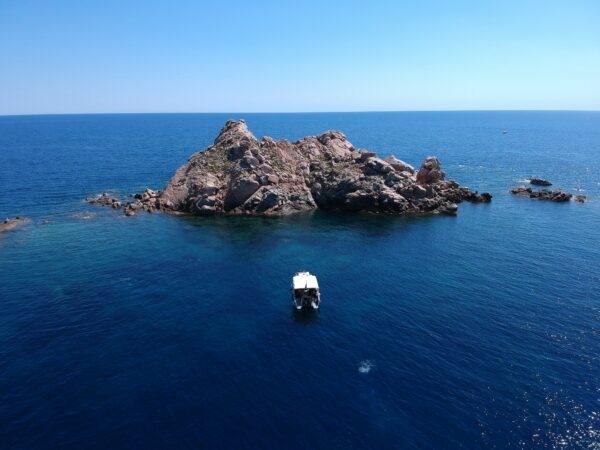 The danger of the Vacca
Required level: Level 1 minimum
Depth: From 5 to 35m.
Situation: 1km south east of the Vacca rock
Presentation: Several rocky ascents that make up the site.
Highlight: The relief, a small cave to explore, the pelagic fauna which comes to hunt the multitude of small fishes finding refuge on the rock.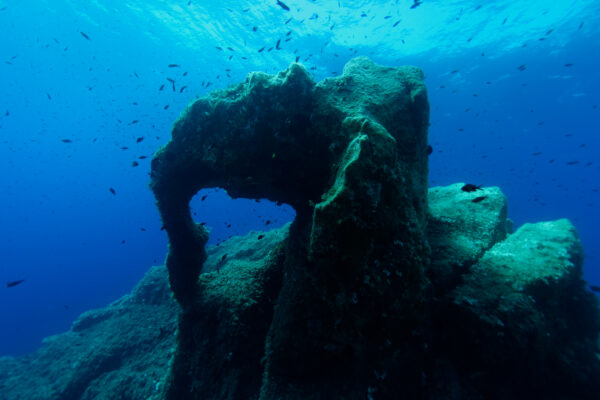 The island of Forana
Required level: Beginner
Depth: From 0 to 20m.
Situation: Less than 1 mile from the coast, it is the first island of the Cerbicale islands Image 21 / dive Image 22/dive DIAPO Image 23/dive DIAPO Image 24/dive
Presentation: A beautiful island which is also an ornithological reserve. It is composed of a rocky plateau well adapted to baptisms, this plateau goes down progressively until 20m
Highlight: Ideal for baptisms, this rocky plateau will delight you with its diversity of fauna and flora. A rock that goes from 11m to 20m shelters a multitude of nudibranchs, morays and some groupers, it serves as a landmark for a school of barracuda that regularly turns around, the luckiest ones will be able to see amberjacks and tunas that sometimes come to hunt on this rock.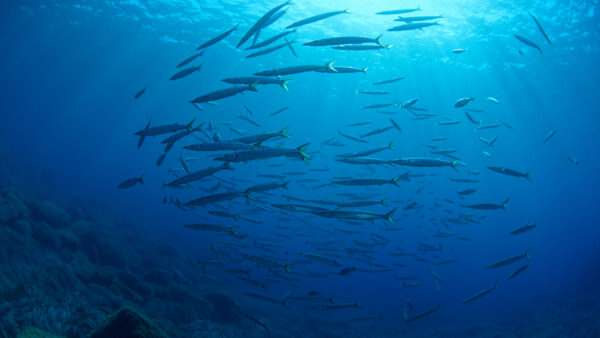 The arches
Required level: Level 2 or 3, (depending on the depth).
Depth: From 17 to 50 meters.
Situation: About 1 mile north of the "Toro".
Presentation: Ascents, with rock passages.
Highlight: Several natural rocky arches in a forest of gorgonians, numerous sedentary and open water fish on the site.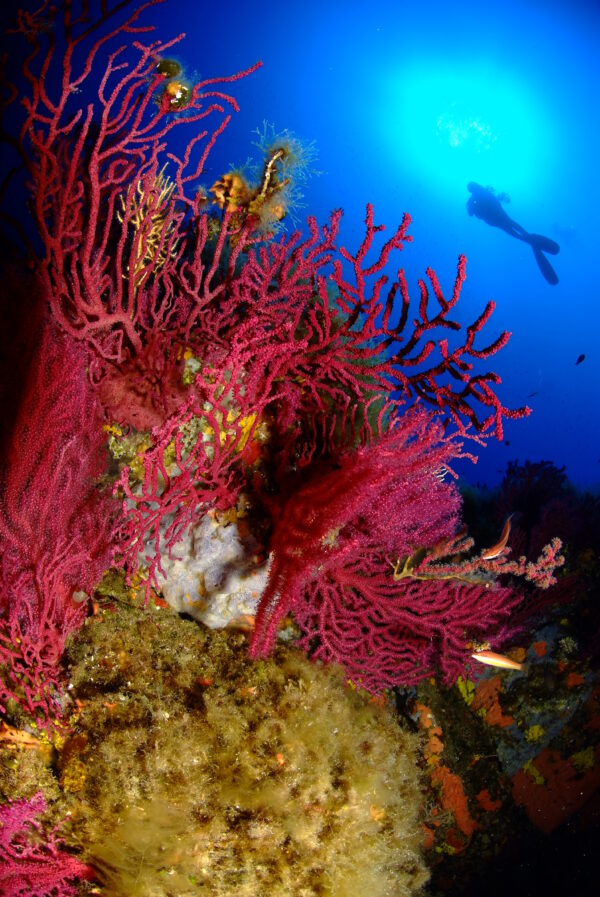 The danger of the Toro
Required level: Level 1 or 2, (depending on the chosen itinerary).
Depth: from 3 to 15m, then 36m.
Situation: At 700m East of the islet of Toro.
Presentation: Two rocky plateaus whose heads are about 50 meters apart.
Strong point: Very clear water, very rich life, possibility of seeing big pelagics.